Vicki Star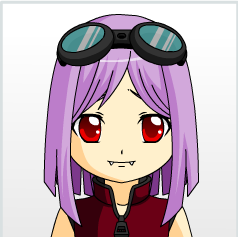 Character Info
| | |
| --- | --- |
| Nicknames | Star, Vic(Only by people who hate her) |
| Age | 15 |
| Species | Vampire |
| Gender | Female |
| Nationality | English |
| Height | 4'9" |
| Body Type | skinny, and flat-chested |
| Hobbies/Interests | Skateboarding, Cheering, Insulting People |
| Status | {{{Status}}} |
| Canon Original Story? | {{{Canon Original Story?}}} |

Vicki is the kind of girl that people try to get along with, but they don't really like to. She is enemies with Denni and Tristan, but friends with Bridget(mostly out of fear). She's great at running, and is kinda short for her age. She doesn't really like horror movies. She ussually tries to take charge, but doesn't hugely like forcing people to do what they don't wanna do.
Trivia
Vicki dies her hair purple, due to her blonde hair being annoying.
Vicki's idol is Lucille Spire.
Before she was a vampire, her eyes were brown.
Ad blocker interference detected!
Wikia is a free-to-use site that makes money from advertising. We have a modified experience for viewers using ad blockers

Wikia is not accessible if you've made further modifications. Remove the custom ad blocker rule(s) and the page will load as expected.