Just movin' this blog post from the Millard High Wiki to here, since I guess that Wiki's kinda dead now.
Basically, this is just an organized list of the games I'm playing/planning to play. This is mostly for my own reference, in order to keep track of the games I want to play, but I mean, you can read it, if you've got a lil' too much time on your hands.
Feel free to share your own lists in the comments, if you so wish. :o

Borderlands: Game of the Year Edition
(PS3)
Upcoming Games to Play
(games I own but haven't started yet)
PS3:

Devil May Cry HD Collection
Deus Ex: Human Revolution - The Missing Link

Games IDK If I'm Playing (but most likely won't):


Lost Planet 3
Wolf of the Battlefield: Commando 3 (PS3)
Final Fight Double Impact (PS3)
Super Puzzle Fighter II Turbo HD Remix (PS3)
Super Street Fighter 2 Turbo HD Remix (PS3)
Mega Man 9 & 10 Combo Pack (PS3)
PS4:

Bully
Dragon Age: Inquisition - Game of the Year Edition
Grand Theft Auto: The Trilogy
Grand Theft Auto V
inFamous: Second Son
Strider
Resident Evil HD
Resident Evil 0 Remastered

3DS:

Monster Hunter 4 Ultimate
Pokemon Omega Ruby
Phoenix Wright: Ace Attorney - Dual Destinies

PC:

The Orange Box
Jade Empire: Special Edition
Games I Want
(games I don't own but am interested in purchasing)
3DS:

Animal Crossing: Happy Home Designer (?)
Bravely Default (?)
Code Name: S.T.E.A.M. (?)
Fantasy Life (!)
Fire Emblem Fates
Kid Icarus: Uprising (?)
Luigi's Mansion: Dark Moon (?)
Pokemon Super Mystery Dungeon
Professor Layton vs Phoenix Wright Ace Attorney
The Legend of Zelda: Majora's Mask 3D
The Legend of Zelda: Ocarina of Time 3D
The Legend of Zelda: A Link Between Worlds (?)

PS3:

Batman: Arkham Origins (!)
Castlevania: Lords of Shadow Collection (?)
Demon's Souls (?)
Far Cry 3: Blood Dragon
Hitman HD Trilogy
Hitman: Absolution
Ni no Kuni: Wrath of the White Witch (?)
Prince of Persia Trilogy
Ratchet & Clank Collection (!)
Tales of Symphonia Chronicles
Tom Clancy's Splinter Cell: Blacklist (! - even tho no more Michael Ironside )
PS4:
Agent (?)
Agents of Mayhem
Assassin's Creed IV: Black Flag
Assassin's Creed Rogue
Batman: Arkham Knight (!)
Batman: Arkham VR (!)
Batman: The Enemy Within
Batman: The Telltale Series
Beyond: Two Souls (?)
Biomutant
BioShock: The Collection
Bloodborne: Game of the Year Edition
Borderlands: The Handsome Collection
Crash Bandicoot N. Sane Trilogy
Cyberpunk 2077 (?)
Dark Cloud (?)
Dark Souls: Remastered
Dark Souls II: Scholar of the First Sin
Dark Souls III: The Fire Fades Edition
Deadpool (!)
Detroit: Become Human
Deus Ex: Mankind Divided (!)
Divinity: Original Sin Enhanced Edition (!)
Dishonored 2 (!)
Dying Light: Enhanced Edition
Fallout 4: Game of the Year Edition (!)
Far Cry 3: Classic Edition (!)
Far Cry 4: Complete Edition (if I like FC2/3)
Far Cry 5 (if I like FC2/3)
Final Fantasy X / X-2 Remaster
Final Fantasy XV (?)
Final Fantasy VII Remake (!)
Full Throttle Remastered
God of War
Grim Fandango Remastered
Hitman: The Complete First Season
Horizon Zero Dawn: Complete Edition
Indigo Prophecy Remastered
INSIDE / LIMBO Double Pack
inFamous: First Light
Journey Collector's Edition
Just Cause 3
Kingdom Hearts HD 1.5 + 2.5 ReMIX (!)
Kingdom Hearts 3
L.A. Noire (?)
Life is Strange
Mass Effect: Andromeda (!)
Max Payne
Metal Gear Solid V: The Definitive Experience (!)
Metro Redux
Middle-earth: Shadow of Mordor
Monster Hunter: World (!)
Pillars of Eternity: Complete Edition
Prototype: Biohazard Bundle (?)
Psychonauts
Red Dead Revolver
Red Dead Redemption 2 (!)
Shenmue I & II
Shenmue III
South Park: The Fractured But Whole
Stardew Valley
The Last Guardian (?)
The Last of Us: Remastered (!)
The Last of Us: Part II (!)
The Walking Dead Collection: The Telltale Series (!)
The Witcher 3: Wild Hunt*
The Wolf Among Us (?)
Thief (?)
Uncharted 4: A Thief's End (!)
Valkyria Chronicles Remaster
Watch Dogs
Yakuza 0
Yakuza 6
Yakuza Kiwami (!)
! = high priority (really want to play; will definitely purchase at some point)
? = maybe want to play?
* = possibly, if previous games are ever re-released and/or brought to the West on PlayStation 3/4
If there's any games you think I'd like that isn't on this list, feel free to suggest 'em and I might check 'em out.
Also, here's a nice lil' picture of my PS3 and 3DS collection, featuring a guest appearance from my disinfectant wipes.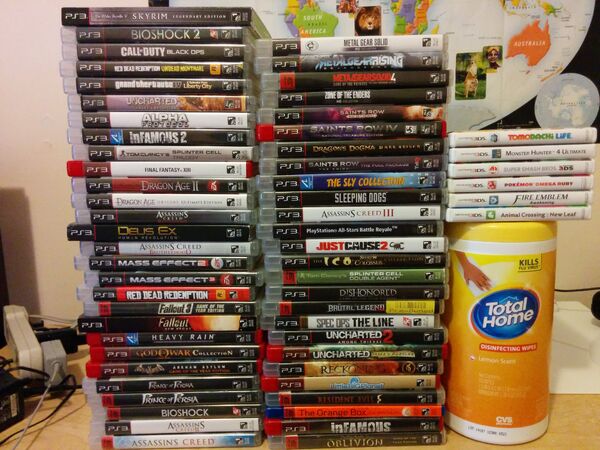 This picture is current as of 9/6/15. It doesn't include games from systems I'm not playing anymore, and my digital games (needless to say). :o