Jamie Clamp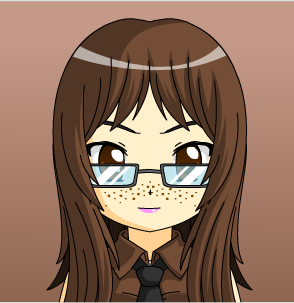 Character Info
| | |
| --- | --- |
| Nicknames | ? |
| Age | 18 |
| Species | Human |
| Gender | Girl |
| Nationality | Greek, half African American |
| Height | 6'2" |
| Body Type | Thin (Flat-Chested) |
| Hobbies/Interests | Reading, Being Mean to others, Making Enemies |
| Status | {{{Status}}} |
| Canon Original Story? | {{{Canon Original Story?}}} |

Jamie is a young yet very studious lady who hates it when people don't take things seriously. She is the oldest daughter of Elmira and Barney and the oldest sister of Ame and Mira. Jamie tends to be mean to everyone except her academic friends and her family (most of the time). She and her dad often argue so she only gets along with her mom. Most of the time, she argues with her sisters but gets overprotective of them whenever possible. Jamie has a supersmart brain (however she stinks at Science) and has already graduated from college.
Trivia
Gallery
Ad blocker interference detected!
Wikia is a free-to-use site that makes money from advertising. We have a modified experience for viewers using ad blockers

Wikia is not accessible if you've made further modifications. Remove the custom ad blocker rule(s) and the page will load as expected.