Ame Cull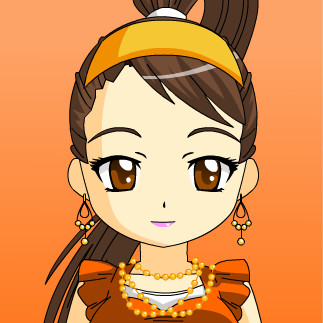 Character Info
| | |
| --- | --- |
| Nicknames | ? |
| Age | 14 |
| Species | Human |
| Gender | Girl |
| Nationality | Greek, half African American (on her dad's side) |
| Height | 4'6" |
| Body Type | Thin, Medium Breasts (Slightly bigger than Amanda Jane's) |
| Hobbies/Interests | Painting, Sculpting, Inventing, Playing Guitar, Partying |
| Status | {{{Status}}} |
| Canon Original Story? | {{{Canon Original Story?}}} |

Ame Cull is a girl who likes to party and usually gets grounded for it (mostly by her mom). She has a best friend named Fern Dumitru (who she talked to for the first time through her plant-talking abilities). Ame has some artistic skills when she was born. She has cousins named Joslyn, Kevin, Amanda Jane, and Isabella. She's also the middle child in her family.
More Photos
Trivia
Ame's favorite colors are orange and yellow.
Ame seems to hate how her cousin Amanda Jane is in a relationship with Jacob McRye.
She is constantly afraid of her long hair and will often try not to take her bandanna off in public.
If Ame's bandanna is off, you will see all of her hair in a long braid.
Ad blocker interference detected!
Wikia is a free-to-use site that makes money from advertising. We have a modified experience for viewers using ad blockers

Wikia is not accessible if you've made further modifications. Remove the custom ad blocker rule(s) and the page will load as expected.